I. K. Inha 12th November 1865 - 3rd April 1930
1865 Konrad Into Nyström is born on the 12th of November in his home Valkeajärvi in Jäähdyspohja, a village in the rural municipality of Virrat, as the ninth child of registrar Johan Abraham Nyström and Clara Charlotta Wikman.

1874 Into's mother Clara dies of smallpox. The same disease also takes the three month old Impi Margretta, the twelfth child in the family.

1875 The Nyströms move to Ikaalinen, but still spend their summers in Virrat.

1877 Into transfers from the secondary school that he had already started in Tampere into the Finnish normal lyceum in Hämeenlinna.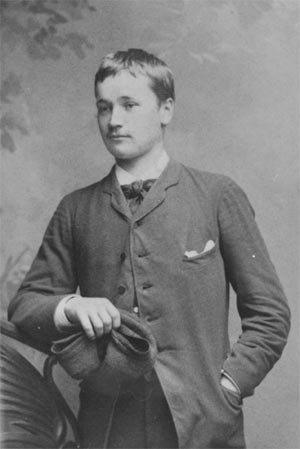 1881 J.A. Nyström moves back to spend his retirement days in Virrat.

1883 In his sixth grade spring report card, Into has the best possible grades in the subjects of religion, Finnish, Swedish writing, Latin, German, geography, history and drawing, with an average of 9.17 on the traditional Finnish scale of 4 to 10. During the same summer his father dies.

1884 As a schoolboy Into writes his novella Lähetyssaarnaaja (The Missionary), published the following year by the Hämeen Sanomat newspaper. At around the same time Into translates Atala by François René de Chateaubriand into Finnish. The translation is published by his brother Usko Nyström.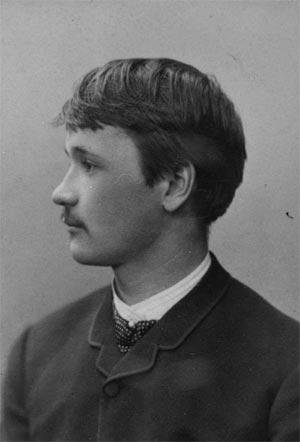 Inha photographed in the studio of Daniel Nyblin.
The picture taken from the archives of Aamu Nyström / Jäähdyspohja village association.
1885 Into proposes to Aini Bonsdorff, whose father, a senior math teacher, refuses. Into begins studying aesthetics, Finnish and history in the Helsinki University.

1886 In the summer of this year Into makes a bicycle trip through Germany into Switzerland. His depictions from the trip are published in the Uusi Suometar newspaper during the same summer. In the autumn he changes his subject combination into geography, geology and chemistry.

1887 Into begins working as an assistant for Finlandia, a Swedish-language Fennoman magazine and takes up using the name Into Konrad Inha. His sister Inha Luciina had died at the age of five in 1869, when Into himself was three years old.

1888 Inha has a short-term position in the Päivän Uutiset newspaper. Later in the same year he receives a new position as an assistant journalist for the foreign affairs department of Uusi Suometar newspaper.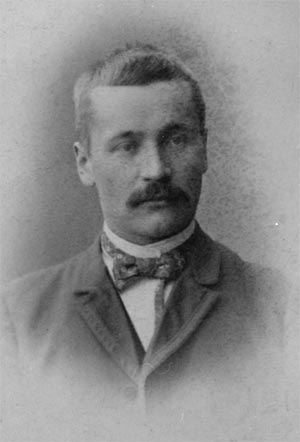 Inha as a journalist for the foreign affairs department of Uusi Suometar in 1891.
The picture has been taken in the photographic studio of K.E. Ståhlberg.
The picture is from the archives of Aamu Nyström / Jäähdyspohja village association.
1889 Inha's business of forwarding bicycles from manufacturers to retailers is at its peak. In October Inha travels to Grönenbach in southern Bavaria to study in W. Cronenberg's private school of photography. He is disappointed with what the school has to offer and returns to Vienna to learn in the atelier E. Jaffé and A. Albert. Inha returns to Finland by way of Italy.

1890 In January Inha is offered a position as a stand-in journalist in Uusi Suometar for the summer and the autumn. In November the position is made permanent.

1892 K.E. Ståhlberg, the owner of Atelier Apollo, hires Inha to photograph the landscapes of Northern Finland. In the end of November Ståhlberg holds an exhibition displaying 80 of Inha's photographs.

1893 In the summer Inha photographs the landscapes of Eastern Finland; the resulting photographic exhibition held during the latter part of the year is a great success. Pahuuden voimia (Forces of evil), Inha's Finnish translation of Jonas Lie's Onde Magter, is published in this year.

1894 In April Inha travels to Viena Karelia with K.F. Karjalainen, funded by Ståhlberg and the Finnish Literature Society. Inha brings back more than 200 photographs, half of which are displayed in a successful exhibition in November and December. Niobe by J. Lie is published in Finnish, also translated by Inha.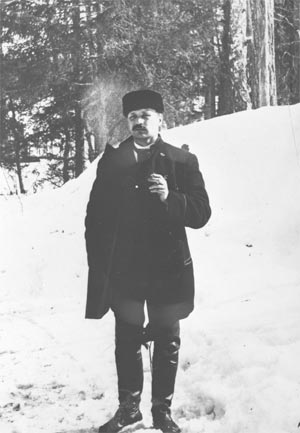 Inha in 1894, about to embark towards Viena Karelia.
The picture is taken from the archives of Aamu Nystöm / Jäähdyspohja village association.
1895 Inha spends nearly the whole year photographing and has a unique, robust bicycle custom made for his journeys. Suomi kuvissa (Finland in pictures) is published as pamphlets in 1895 and 1896.

1896 Together with Väinö Wallin, Inha buys the so-called B-series of the Kyläkirjaston kuvalehti periodical. The periodical comes into their possession in the following year.

1897 In April Inha travels to Athens to report on the Greco-Turkish War of 1897 as a correspondent for Uusi Suometar. Hellas ja helleenit (Hellas and the Hellenes), a reportage in book form, is published in the autumn.

1898 On the 10th of May, Aino's day according to the Finnish calendar, Inha gives Aino Krohn (later Kallas) a piece of silver jewellery with a pearl that had cost him a rifle and ten roubles in Viena Karelia. Aino keeps the gift but refuses the proposal.

1899 Inha travels to London as a correspondent to report on the Second Boer War. Kreikka, Inha's geographical work on Greece, is published between 1899 and 1901.

1900 Inha's photographic series on Finnish agriculture is on display at the Paris World Fair.

1901 Inha sells his share of the Kyläkirjaston kuvalehti to Väinö Wallin, but continues working as an editor for the periodical until 1905.

1902 – 04 Lienhard ja Gertrud, Inha's translation of Johann H. Pestalozzi's Lienhard und Gertrud, is published.

1903 Inha buys a villa from Karjalohja, but has to let it go the following summer.

1905 Inha visits manager Antti Ahlberg in Nokia and has a hysterical fit triggered by a nightly thunder storm; Inha's host delivers him to the Pitkäniemi mental hospital. Later, Inha seeks further treatment and becomes a freelance author and journalist.

1906 In the spring Inha moves to Hämenkyrö to live with his brother Väinö. In the autumn Inha, suffering from depression, moves to the Kammio nursing home in Helsinki. Towards the end of the year he moves to live with his brother Usko. Balkanin niemimaa, Inha's work on the Balkan Peninsula is published in 1906 and 1907.

1908 Inha lives on Mikonkatu street, right next to Kaisaniemi park and photographs Helsinki commissioned by the WSOY publishing company. Kansakoulun karttakirja, an atlas illustrated by Inha is published by Valistus. Inha also translates Roald Amundsen's Nordvestpassagen and Albrecht Wirth's Der Weltverkehr into Finnish as Luoteisväylä and Maailmanliike.

1909 Suomen maisemia (Landscapes of Finland), an assortment of Inha's travelogues is published. Kansanvalistusseura, The Finnish Lifelong Learning Foundation, publishes Saksanmaa, a geographical work on Germany in the form of four pamphlets between 1909 and 1910. Kuvia metsän elämästä (Pictures from the life of the woods). by R.H. Francé is published as Inha's Finnish translation.

1910 Helsingin opas, the Helsinki guidebook composed by Inha is published.

1911 The travelogue on the journey to Viena is published in the form of Kalevalan laulumailta (From the songlands of Kalevala). Lasten ihmeitten kirja (The book of the wonders of children), edited by Inha, and Kirjan synty (Birth of the book), Inha's translation into Finnish of A.W. Unger's original, are also published during the same year. Maailman ihmeet I – IV (Wonders of the world), a series edited by Inha is published between 1911 and 1913. Valkeajärvi, Inha's childhood home, is sold to the W. Rosenlew & Co. Ab. company.

1912 Inha's geographical works Islanti, tarun ja runon maa (Iceland, land of sagas and poetry) and Jään ja tulen pohjola (The North of ice and fire) are published. Maantiede ja löytöretket I (Geography and expeditions I), a work edited by Inha is also published.

1913 Inha first moves to live with his brother Onni Nyström and then to Padasjoki for the summer. Now living by lake Päijänne, he buys a sailboat. For the winter he moves into the summer villa of the Jalava family on the shore of lake Lohjanjärvi. Eräretkillä Kanadassa, Inha's Finnish translation of A. Lilius's Canadian hunting travelogue is published.

1914 Inha moves into the Uskali summer residence of Onni Tarjanne in the village of Äijänneva. Maantiede ja löytöretket II (Geography and expeditions II) is published, as well as Rolf salolla, Inha's Finnish translation of Ernest T. Seton's Rolf In The Woods.

1915 The Tarjanne family comes to spend the summer in Uskali and Inha moves out of their way into the village of Vaskivesi and the following summer from there to Syrjäniemi in Jäähdyspohja.

1916 Inha buys a patch of land from Jalassaari island and has a small house built by Kivessalmi strait in lake Lohjanjärvi. He lives in the house from 1917 to 1925, working as a hermit. Aarniometsän sydän and Harmaan karhun elämäntarina, Inha's translations of C.G.D. Roberts' The Heart of the Ancient Wood and Seton's The Biography of a Grizzly, are published.

1917 Löytöretkillä (On expeditions), a work edited by Inha is published in two parts. Three Finnish translations by Inha are published: Roberts' Eläinvaltiaita (Kings in Exile), Seton's Kaksi partiopoikaa (Two Little Savages), and Stewart E. White's Virginia.

1918 Inha translates J. Huret's French travelogue on Berlin and one more book by Roberts into Finnish; these are published as Berliini ranskalaisen kuvaamana and Ylämaan kansaa. More translations by Inha ensue the following year, as Seton's Eläinten sankareita (Animal Heroes) and W. Bloem's Rautainen vuosi (Das eiserne Jahr) are published in Finnish. Two book series edited by Inha are published: Tiede ja elämä I – IV (Science and life I – IV) between 1919 and 1922, and Suuret keksijät I – II (Great inventors I – II) between 1920 and 1921.
In 1922 Inha translated F.A. Talbot's work on recent inventions as Uusimpia keksinnöitä, Mark Twain's Innocents Abroad in two parts as Jenkkejä maailmalla I – II, and F.A. Vanderlip's What Next in Europe? as Miten Euroopalle nyt käy?
1923 Maantiede ja löytöretket III (Geography and expeditions III) is published.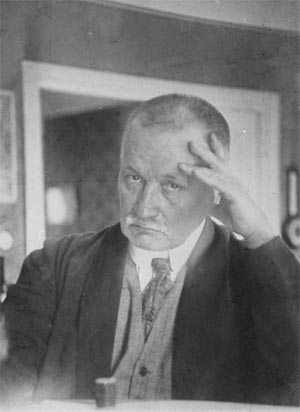 Self-portrait from 1925, when Inha turned 60 years.
The picture is from the archives of Aamu Nyström / Jäähdyspohja village association.
1925 Inha translates Seton's Bannertail: The Story of a Graysquirrel, published in Finnish as Viirihäntä, and together with Eino Voionmaa, Amunden's polar flight travelogue Gjennem luften til 88°nord, published in Finnish as Ilmojen halki leveysasteelle 88. Tekniikan voittokulku I (The triumph of technology) and segments of part II and III are also translated by Inha. The second illustrated edition of Suomen maisemia (Landscapes of Finland) is published. Inha moves to Helsinki, where he has an apartment on Ratakatu street.

1926 The last, fourth part of Maantiede ja löytöretket (Geography and expeditions) is published, as well as Se vanha hopeanharmaa, a translation of Seton's Old Silver Grizzle the Badger. The following year sees the publication of two Finnish translations by Inha: W.H. Hudson's Vihannissa asunnoissa (Green Mansions) and Charles Lindbergh's "Me": lentokoneeni ja minä ("We").

1927 Inha makes his last summer trip to Soinila in Hämeenkyrö with his Indian Prince motorcycle, visiting his brother Väinö's family.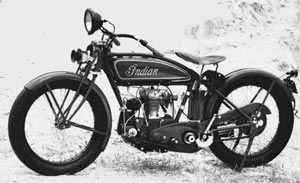 Indian Prince 1926
1928 A number of Finnish translations by Inha are published: Hall Caine's Sovitus (His atonement), Claes Lindskog's Kreikkalaisia jumaltaruja ja satuja (Greek myths and sagas), Lucy M. Montgomery's Pieni runotyttö (Emily of New Moon) and Runotyttö maineen polulla (Emily Climbs). More translations follow in 1929 in the form of Palle Huld's Pallen matka mailman ympäri 44 päivässä (A Boy Scout Around the World), M. Johnson's Safari and H.G. Selfridge's Kaupan voittokulku (The Romance of Commerce). 1930 sees the publication of two translations by Inha: James Fenimore Cooper's Vakooja (The Spy) and A. Franck's Pennittömänä maailman ympäri (A vagabond journey around the world). Finally, Lontoon poliisi (The police of London) and Pariisin poliisi (The police of Paris), Inha's translations of J. Gollomb, are published posthumously.

1930 Into Konrad Inha dies of leukaemia in Helsinki on the 3rd of April. He is buried in the Hietaniemi cemetery.
Maija Lehtinen, 1990